All dog collars are handmade in the United States with high-quality cotton fabric or nylon, strong metal D-rings and slip-lock buckles. 
Dog Collars
Pair a matching leash with any of our collars or harnesses to complete the look you're trying to achieve!
Dog Leashes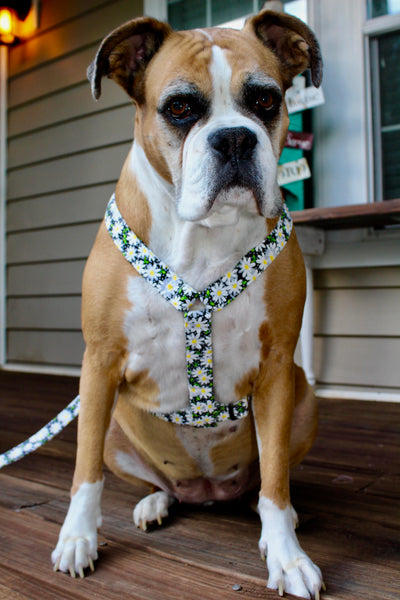 Our line of harnesses are available in any size, and can be ordered to match any collar or leash in our shop!
Harnesses
Latest Testimonials
Wonderful quality and beautiful merchandise I have purchased many items from Lucy Lou's and keep coming back. The items are very well made and stand up to my big labs!

Julianne Greene
These collars are amazing! The personalization makes it extra special. Every order I've placed has been fulfilled quickly and gotten to me in a very reasonable amount of time. I can't wait to order George a new collar for every season. He's seen here in his sea turtle collar with his name on it.

Rachael Clark
Absolutely adore this collar! We were in need of a summer collar for our pup Juniper, and I loved this festive collar with the flower as soon as I saw it! Love that the flower is easily removable if needed. It came really quick! I will definitely be ordering again.

Molly Ferrante
I couldn't love this more! It's so beautiful, I love the pattern and it was so well made. I have received so many compliments on it in the past couple of weeks. Thank you so much 💛

Meridith Borg
Fast shipping. Excellent quality. Very well made. Looks exactly like the picture. Very happy with this purchase. Highly recommend.

Emily Davies
This is adorable, well-made, and fits perfectly. It looks great on my dachshund! I had kind of a hard time finding cute and interesting boy collars, so thank you!

Lindsay Deal
I love both the collar and matching harness. Jackson is a pretty active dog and this fits him like a glove!

Katie Swanson
I bought the Lobster dog collar for my dog, in the medium size. I love it and she loves it. It is very cute. The owner was amazing and it ship very fast. Now my dog has a new collar and she is ready to show her friends at day care.

Lynann Gaughan
Ah-mazing! Quality, customer service, speed, and just the cuteness of the items. 5 stars hands down. I will be adding a photo as soon as I download my camera. Thanks Lucy Lou's!!!

Joy West